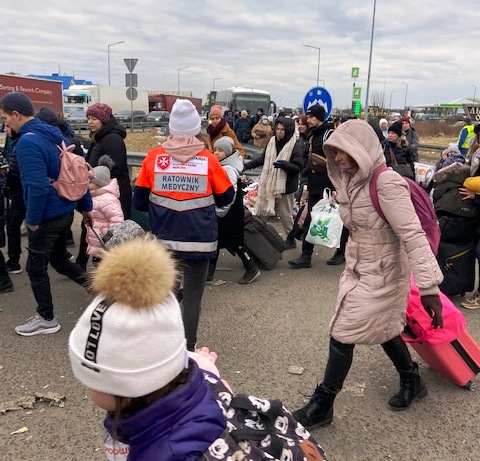 May 15 – 15 months of the war – new aid projects.
We present a new report "Aid for Ukraine" for the period of 15 months. Zakon Maltanski Polska – Aid for Ukraine 20230515 – 1 year
Maltese Aid to Ukraine 2022/2023 – A 12 month report.
Exactly one year ago, on 24 February 2022, the Polish Order of the Knights of Malta sent a communiqué launching an aid programme for Ukraine;
'In view of Russia's military attack on Ukraine, the ongoing hostilities, which also target the civilian population and medical facilities, the Polish Knights of Malta and the Maltese Medical Service operating within its structures are undertaking a programme to assist victims and refugees from Ukraine. 
 The programme will include, among other things, free medical assistance, which will be provided in Ukraine through Maltese structures present there, and in a situation where the injured and needy show up in Poland, assistance will be provided on the spot.
For refugees from Ukraine, we are organising help to find shelter in Poland, in Polish homes and parishes.' […]
Little did we know at the time of the scenarios that were to unfold – we acted spontaneously and with total dedication.
The annual report we are publishing today is a record of our Maltese activities actions that we view as – our duty!  The scale of the effort, the risks taken by those who went to Ukraine, is immense and unprecedented.  The value of our aid, estimated at almost 100 million PLN, would not have been possible without the support of national Maltese organisations from abroad, and prominent individuals who pointed to the Order of Malta Poland as the right organisation to donate aid.
Many thanks to all.
[ Link to the report: Zakon Maltanski Polska – Aid for Ukraine 20230224 – 1 year.. ]
Yours sincerely and with gratitude.
Jacek Tarnowski
President of the Association of the Polish Knights of Malta
Maltese Aid to Ukraine 2022 – A 10 month report.
The Polish Association of the Knights of Malta (ZPKM) and the Maltese Medical Service (MSM), which operates within its structures, launched a programme of aid to Ukraine on the first day of the war, i.e. 25 February. Today, ZPKM is publishing a report on Maltese assistance for the past ten months, which amounts in value to more than 96 million PLN, which was made possible thanks to Maltese international structures.
The programme includes, among other items, socio-medical support at three points on the Polish-Ukranian border, three medical points at railway stations, the collections of donations, the organisation of humanitarian transports also into the war zone to cities: Mariupol, Dnipro, Energodar, Zhytomyr, Sumy, Drohobych, Boryslav, Obrucz, Berdycziv, Odesa, Uzhchorod, Bereżany, Horodnia, Kyiv and Lviv. Furthermore, the evacuation of the sick from Ukraine, the relocation of refugees temporarily finding themselves in Poland to the West and organising social assistance programmes in Poland such as language learning, psychological assistance or help in finding work.
Since the beginning of the war in Ukraine, the value of the aid provided is estimated by the Polish Association of the Knights of Malta at 96,750,000 PLN. This value has been generated thanks to the enormous commitment of nearly 300 volunteers in the year's first half and the significant material aid from Maltese organisations abroad, which began to flow in from June this year.
 'It was crucial to get aid structures up and running quickly, especially pre-medical aid, as refugees were reaching Poland in bad shape in the first days of the war. At the same time, we focused on distributing tasks among the rapidly increasing number of volunteers to sensibly manage the avalanche of spontaneous aid. Systemic measures were also necessary – the Maltese Medical Service set up two logistical centres – in Kombornia and a central one in Chorzów, through which, to this day, numerous humanitarian types of transport passes – 189 lorries and vans, and 109 heavy TIR-type kinds of transport. The large numbers show the scale of the Maltese operation. Still, the moving images of the evacuation of individuals remain with us, such as a teenage boy who urgently had to undergo serious heart surgery, which was only possible in Poland and remains firmly etched in memory. It was successful, and the emotions accompanying the evacuation from Kyiv stay with us forever, also with the doctors who perform such operations several times a week. On another occasion, we coordinated the transport of 9 people in 9 ambulances from a Ukrainian hospice to a hospice in Germany. Whether short or long, the fight for life is an essential matter and becomes a symbol of opposition to the barbarity of war', said Dr Marcin Świerad Hospitaller of the Order of Malta in Poland, President of the MSM and Chief Coordinator of the Maltese Aid Programme for Ukraine.
The Maltese Medical Service has trained paramedics in Ukraine since 2014, organised and supported the transportation of the injured from the Maidan, trained civilian services during the COVID pandemic – professionally training a total of 3,000 Ukrainians – and donated aid in the form of a significant amount of hygiene and personal protection items. Thanks to these contacts, the implemented assistance in 2022 was able to accurately and efficiently reach Ukraine in the places of greatest need.
'The Order of Malta runs assistance in more than 100 countries worldwide and has a great deal of experience in humanitarian action. It is this aid that we wanted to mobilise as quickly as possible. A significant proportion of the transports run in the cities of Chorzów and Kombornia are now flowing thanks to international aid. Efficient communication, but also the organisation of visits, during which representatives of associations from Germany, France, Spain, the Czech Republic, Belgium, England, Italy, Estonia, Lithuania, Austria, Ireland and the USA were able to see first-hand our activities in Poland, makes it possible to obtain material support for Ukraine. We are extremely grateful for this. I also know that the way Ukrainians have been received in our country has left a strong and positive impression.
 We want to welcome the new year with the end of a cruel and unjust war, but – unfortunately – we are preparing to continue our aid activities while asking for all possible support. Members of the Order and volunteers work without any remuneration. For many of us, who are heavily involved, this is practically a second unpaid job – and for this, I would like to express my sincere thanks.
The Polish Association of the Knights of Malta, in addition to its aid programme for Ukraine, runs permanent works. I would like to assure you that these will continue. We have just completed the 21st edition of the Malta Opłatek, or Christmas Eve gathering for the lonely and needy, which nearly 3,500 guests attended. 
For the coming new year, I wish the members of the Order of Malta, volunteers and our supporters continuing commitment to helping those in need as we have shown this year'. 
Jacek Tarnowski
President of the Polish Association of the Knights of Malta.
We present a new report "Aid for Ukraine" for the period of 10 months. Zakon Maltański Polska – Aid for Ukraine – 10 months
September 22 – 7 months of the war – new aid projects.
We present a new report "Aid for Ukraine" for the period of 7 months. Zakon Maltański Polska – Aid for Ukraine – 7 months
July 23 – 5 months of the war – new aid projects.
We present a new report "Aid for Ukraine" for the period of 5 months. Zakon Maltański Polska – Aid for Ukraine – 5 months
May 25 – 3 months of the war – over 3 million refugees from Ukraine entered Poland, 2 million remain.
We present a new report "Aid for Ukraine" for the period of 3 months. Zakon Maltański Polska – Aid for Ukraine 3 months
April 26 — 62nd day — almost 3 million people have entered Poland.
Aid activities described in previous reports are continuing. Actual report – aid for Ukraine after 2 months – is ready.
Aid transport from Energodar returned to the center of Kombornia. MSM Krzeszowice supplies significant aid to Bóbrka (Bibrka in Ukrainian).
BEforUA (Belgium for Ukraine) organization , with the help of the Maltese Medical Service, provided to Ukraine another 8 ambulances filled with medical equipment and drugs.
A group of Italian doctors and (Malta) volunteers worked with the Polish MSM units, e.g., in Cracow.
Until the end of the year, 5 long-term assistance programs were approved for an amount of EUR 858,000. We are still looking for financing for projects.
You may find more information in the presentation Zakon Maltański Polska – Aid for Ukraine – 2 months
April 14 — 50th day — more than 4 million refugees have left Ukraine. Over 2.7 million people have entered Poland.
The Russians are preparing another attack on Donbas.
1.Aid activities described in previous reports are continuing. The link to the presentation can be found in the 25 March report.
2. Aid transport convoys are leaving from the Kombornia center to: Mariupol, Dnipr, Energodar and Zhytomyr, Sumy, Drohobych, Boryslav, Obrucz, Kiev area. Convoys with aid transport are leaving from Kombornia center to: Mariupol, Dnipr, Energodar and Zhytomyr, Sumy, Drohobych, Boryslav, Obrucz, and the Kiev area.
MSM Krzeszowice supplies considerable amounts of money to the center in Bóbrka   (Bibrka in Ukrainian), in the  Lviv Raion, which further distributes this aid.
3. Thanks to the cooperation of BEforUA (Belgium for Ukraine) and the Malta Medical Service (MSM), 15 pallets of the most needed equipment and medicines, purchased thanks to the generosity of the Belgians, were delivered to Ukraine through aid hubs in Kombornia and Chorzów. Additionally, Belgian financial support has allowed for the continuous purchase of food and medicines, which are then transferred to Ukraine. The cooperation resulted in the delivery of 5 Belgian ambulances filled with medical equipment and medicines to Kiev. On 23 April, a shipment of another 6 ambulances is planned. BEforUkraine (Belgium for Ukraine) https://www.facebook.com/BEforUA is a group of assisting Belgian citizens that spontaneously formed right after the outbreak of the conflict in Ukraine.
4. A group of French and Spanish doctors and (Malta) volunteers worked with the Polish MSM units, e.g., in Cracow. Apart from providing real, tangible help to the refugees, this exchange of experience is to serve future aid projects implemented in Poland.
5. A program of further activities is being developed together with Malteser International. The most urgent ones concern the purchase of equipment and providing additional facilities for MSM medical posts in the Podkarpacie voivodeship.
02 April — Day 38 — 4.1 million refugees have left Ukraine.
According to the United Nations (UN), more than 4.1 million war refugees have left Ukraine. Despite ongoing negotiations, the Russians continue to bomb and shell Ukrainian cities.
1. The medical-social assistance service point on the Polish-Ukrainian border in Krościenko is temporarily closed as of 30 March — the reason is the smaller and sometimes diminishing movement of refugees across the border.
2. A group of eight French doctors from the Maltese volunteers was delegated to the MSM medical assistance service point at the Main Railway Station in Cracow. For this, MSM Cracow was equipped with an additional ambulance.
3. On 01 April, a group of Spanish doctors, working as the Order of Malta volunteers, arrived in Poland. They will be helping for 16 days.
4. The Volunteer Service of Malta started coordinating foreign volunteers in Poland, except for medical volunteers. This coordination effort addresses people willing to come to Poland individually or in groups and help. The coordination and logistics of arrivals, accommodation, task distribution, and others require a separate organization.
5. The Malta Aid Centre in Siemianowice Śląskie is developing the scope of their help — a warehouse has been opened to receive gifts, which were previously handed out on an ongoing basis or sent to Ukraine.
Cooperation with the Ukrainian Federation from Katowice and the "Rakieta" Oncology Foundation has been initiated.
6. Earlier tasks described in previous reports continue being implemented. The intensity of which depends on the current situation.
7. Under the webpage tab Aid to Ukraine 2022 – the media about Ukraine assistance, you will find a link to an interview with the Grand Hospitaller of the Order of Malta after his visit to Poland and a short discussion. You can find out, among other things, that 69,000 Maltese volunteers are mobilised in Europe to help Ukraine.
25 March 2022 – 29th day – 2,3 million refugees in Poland
Presentation "Four weeks of aid for Ukraine by the Polish Association of the Order of Malta" Zakon Maltański Polska – Aid for Ukraine – 30 days
18 March – 23rd day – 2 million refugees in Poland
BIG OPERATIONS:
Ukrainian hospitals received support worth about PLN 1 million.
The National Institute of Cardiology in Anin, Poland, has donated specialized equipment and resources to Lviv hospital necessary to save lives of heart attack patients worth about 500, 000 PLN. The delivery was coordinated by the director of the institute, Prof. Łukasz Szumowski, in cooperation with the staff of the Malta Medical Service (MSM). The delivery was made by the Government Strategic Reserve Agency (RARS). A few days earlier, similar support for hospitals in Ivano-Frankivsk and Kyiv was organized and delivered (by another supplier) by cardiology hospitals from Zabrze and Katowice. Marcin Swierad, MD, MSM Chief of Staff, participated in this operation.
Chorzów warehouse accepts large in-kind donations. It supports Maltese assistance points in Ukraine, redistributing aid to the needy.
This week 2 TIRs filled with medicines, dressings, and food were delivered to Ivano-Frankivsk. The warehouse was set up in cooperation with the St. Nicholas Foundation and Maltese Relief Corps. Maltese volunteers from Ukraine staff the warehouse.
fast currency transfers are now operational at www.zakonmaltanski.pl
CONTINUING ACTIVITIES from previous weeks:
MEDICAL AND SOCIAL ASSISTANCE POINTS:
– The point at the border in Hrebenne is functioning without changes. There is a plan to extend the assistance with medical aid, depending on the situation and needs – in progress.
– The point at the Krościenko border still functions as a social-medical point. Maltese doctors from abroad are providing medical services in a field tent.
– The point at the Korczowa border on the Ukrainian side functions as a socio-medical point – MSM supports the Maltese Dopomohi Service with supplies.
– Medical Aid Station at the Polish State Railways (PKP) Cracow Train Station – works continue.
– Medical Aid Station, the PKP Katowice Train Station – on standby and at the disposal of the Voivode (Governor).
KOMBORNIA:
– Kombornia continues to operate as a Hub to serve Polish and Ukrainian needs. Every day,2-4 transports go out – buses. Recent transports (medicines, food, dressings, stretchers, chemicals). Last transports:
– 1 bus, volunteers from Debica, going near Kyiv in the Irpin' area,
– 1 minibus, volunteers from Krosno, going to Zhytomyr with gifts for the Territorial Defense force and care home for disabled children,
– 1 minibus, medicines to the medical point in Krościenko,
– 1 large bus, to Caritas in Drohobych.
– 1 minibus from Rudawki Rymanowska for refugees living there.
– 1 minibus to Narol.
So far, 46 transports have left from Kombornia in Poland.
The warehouse and transports are managed by Ryszard Skotniczny and Dariusz Sałata – MSM commander.
WARSAW:
– Malta Volunteers active in helping at the Torwar sports facility (500 beds) – dispensing food, meals, cleaning and hygiene products, sorting clothes. It also participates in the work of the legal station, the point with accommodations, where it passes all offers of foreign trips, which come from different sources.
The Maltese group of a dozen young men and women volunteers has been active since March 8th, including filling night duties.
Branches of the MSM:
– Continue to organize collections and locally help refugees.
12 March – 17th day – over 1.5 million refugees in Poland
On the appeal of the Order of Malta, medical assistance rescuers from the Maltese national associations from Germany, the Czech Republic, Belgium, England, Estonia, and Lithuania and observers from Malteser International came to Poland. They all brought gifts for the refugees, with some spending time on duty for a few days at our points on the PL-UA border in Krościenko and Hrebenny. The most common medical problems are e.g. infections and colds in children and older adults. Still, there were also cases of medical evacuation using ambulances of people with multi-organ stress conditions or oncological patients. In addition to actual, real-time assistance, volunteers from abroad must take back to their home countries true testimonies and emotions that take on an utterly different dimension after contact with the tragedy of Ukrainian refugees.
In Chorzów, we opened a warehouse with an area of 1,500 m2, where material aid flowing from Poland and abroad is received and redistributed. MSM branches in: Cracow, Krzeszowice , Andrychów, Kęty, Nysa, Krosno and Katowice are receiving donations in the form of medicines, foodstuffs, blankets, sleeping bags which are first sorted and then sent over to Ukraine (Lviv, Sambor, Narol, Drohobych, Ivano-Frankivsk, Korczowa) and to the border on the Polish side in Krościenko, Medyka and Korczowa. In total, 33 transport sorties.
A module of quick payments in the PayPal system in USD, EURO, CHF was launched, which also supports payments with credit cards. Work is underway to launch the T-pay system. Please, provide this information to foreign donors – more information: https://zakonmaltanski.pl/general-info/
On behalf of the refugees from Ukraine, we thank you for all financial support.
March 8th – 13th day – over 1 million refugees in Poland
The Polish Order of the Knights of Malta is developing aid activities for Ukraine that began on 25 February. We have estimated the value of the aid stream in the first seven days at 2 million PLN, and tomorrow, after two weeks, it will exceed 4 million PLN. In the first two days, we operated with a group of 30 people. Now we are working with increased intensity: 30 people performing staff activities, 100 outside the staff, and nearly 200 supporting our activities, including other organizations, NGO's, and private companies.
We are about to receive international help organized in cooperation with Malteser International and assistance now flowing from abroad from other people. For this purpose, a warehouse in Chorzów, Poland, and distribution centers were established. Simultaneously, thanks to the cooperation with Maltese Aid in Ukraine, we are trying to match precisely the aid that flows across the eastern border. These are substantial logistical challenges.
We are launching a user-friendly, quick payment module payments in currencies so that donors from abroad can easily transfer financial aid. For the Poles, please use the created ZRZUTKA platform or send your donations via simple transfer to account no. https://zakonmaltanski.pl/general-info/
The money we receive is used on an ongoing basis to purchase: food, medicine, medical equipment, technical means (e.g., power banks, generators, etc.). A significant cost center is unfolding with the rising fuel costs for vehicles. Some of the donations we receive are in kind.
Thank you for being so supportive of the campaign "Pomoc dla Ukrainy 2022" ("Aid for Ukraine 2022").
March 5th – 10th day – over 787,000 refugees in Poland
We continue our efforts.
March 4th – 9th day – over 700,000 refugees in Poland
We continue our efforts.
March 3rd – 8th day – over 604,000 refugees in Poland
1. KROŚCIENKO, near the Ukranian-Polish border – today another Maltese medical point is being set up in Krościenko, in agreement with the local authorities. We are sending a mobile medical point and volunteers.
2. CRACOW – at the request of the Małopolska Governor, the MSM medical point at the Cracow railway station will be transformed into a 24/7 aid station.
3. FOREIGN – The appeal of the Order of Malta in Poland was answered by the Maltese structures in Great Britain, Belgium, Switzerland and Germany. We are facing a huge logistical task of accepting and redistributing provided aid.
March 2nd – 7th day
There were 98,000 people that crossed the border from Ukraine into Poland over the past 24 hours, now totalling more than 450,000.
1. We are preparing logistically to accept donations performed in London
NEEDS – MONEY FOR GAS!
2. We are continuing collections in Katowice, Kraków, Warszawa, Poznań, Radom, Krzeszowice, Nysa, including cleaning products, children's items, bed sheets, towels, bandages, medicine, sleeping bags, blankets, and food. Part of the donations are shipped to the region of Lviv.
3.  Krzeszowice (Małopolskie voivodeship), 9 Targowa street – MSM help center. We are coordinating help with local centers (volunteer fire departments, Women's clubs, etc) in organizing sleeping areas and accepting refugees.
On March 13, we are planning to start a blood donation point which will be donated to the Ukrainian Blood Bank via its Polish counterpart.
4. Border point at Hrebenne now works for 24 hours a day/ 7 days a week (with personnel shifts). Border point in Kombornia – relocation of refugees and transport of donations also works 24 hours a day/ 7 days a week.
5. Belgium – coordination of 10 buses of donations as well as the departure of 15 Ukrainian refugee families west.
March 1st – 6th day – approx. 350 thousand refugees in Poland.
1. A donation center was organized in Warsaw in order to sort and redistribute contributions for Ukraine. The center is located at Warsaw – Praga at: Our Lady of Victory Church, Grochowska 365. The center is open from 16:00 to 19:30.
 Three transports were already made since Monday. The donations reached an aid center organized by Order of Malta Volunteers in Brzuchowice on the outskirts of Lviv, Ukraine (7 km to the town center). Subsequent transports are planned for tomorrow, Thursday, as well as Friday (totalling to 90 pallets containing food, medicine, hygiene products, blankets, sleeping bags and sleeping mats. We are planning to send two large trucks tomorrow.
[Volunteers from the St. John of Jerusalem Foundation, Angels of Mercy Foundation (www.mostdonieba.pl), Kamionek Co-cathedral Choir (www.kamionek.info)]
February 28th – 5th day – approx. 320 thousand refugges in Poland
1. Maltese Medical Corp (MSM) formed a first aid service point on the main train station in Cracow. We are currently organizing a second point next to the train station which will also have a defibrillator, amongst other equipment.
NEEDS – additional equipment, including first aid kits, personnel – volunteers and doctors.
2. We are organizing a transport of medical equipment for the Ukrainian Order of Malta Volunteers from Ivano-Frankivsk. The volunteers built a soup kitchen, first aid service point, as well as a small hospital. We are organizing a large transport (a large truck) with medical equipment to Lviv, which is donated from the Polish National Strategic Stockpile (ARM).
3. We started to collect money using the zrzutka.pl platform https://zrzutka.pl/chh5dw
4. We are transporting COVID-19 tests (valued at more than 12,000 PLN) received as a donation – thank you!
5. Malteser Hilfsdienst in collaboration with Malteser International donated four buses to the Maltese Medical Corps (MSM). WE WILL NEED MONEY FOR FUEL!
The buses will have supplies including blankets, mattresses, sleeping bags, and food collected and purchased in Silesia on the way to the transit depot in Kombornia
6. We are receiving donations in Order of Malta collection centers in: Cracow, Warsaw, Katowice, Radom, Grobniki, and Nysa.
February 26-27
1. Transports of Maltese Medical Corps (MSM) reported to the Chancellery of the Prime Minister go along the humanitarian corridor.Information (26.02) from the Lviv region: the services expect over 280.000refugees (of which, for example, around 20.000 in the vicinity of Sambir at the crossing in Krościenko)
2. Maltese volunteers are organising a relocation point for refugees in Kombornia (Krosno poviat, Podkarpackie Voivodeship) and a medical point.
3. Ukrainian firefighters from Ivano-Frankivsk are already using medical and humanitarian equipment given by Maltese Medical Corps (co-funded within the scope of long-term project of the Ministry of Foreign Affairs).
4. Ukrainian Maltese volunteers from Ivano-Frankivsk, trained by MSM, are building a field kitchen, medical point and a provisional hospital. We are organising professional support by the Hospital in Zabrze, and medical equipment.
5. Kraków – in Donimirski Boutique Hotels war refugees are already being admitted, and their meals during their stay are organised by the Order of Malta volunteers from Krakow-based schools.
6. We are organising transport and stay in Germany for ca. 100 people (refugees from Ukraine).
7. We are collecting material gifts in Kraków, Katowice and Warsaw, the first transports are on the way to the handling point in Kombornia.
8. Maltese social-aid point by the border crossing in Hrebenne has been operational since 25.02; every day over 400 drinks and energetic meals are served to the refugees
9. Over 2 tons of clothes, blankets and hygenic products donated by the local communities in Warsaw have been collected, sorted and packaged by the volunteers
10. First group of chlidren from the orphanage in Żytomierz has been recepted in Warsaw
10. Maltese medical-aid point in Głubczyce has been ready since 26.02
11. Organisation of refugee accommodation in reported private apartments (for example, our members in Poznań are ready to receive and house over 50 refugees).
COMMENCED AND PLANNED AID
1.Extension of medical and social points at train stations in Przemyśl, Rzeszów and Kraków.
2. Setting up of medical and social points for refugees in Kraków, Barczewo, Warsaw, Poznań and Katowice.
3. Continued transport for refugees
4. Continued organisation of accommodation for refugees.
5. Social aid for the refugees.
6. Material and financial collections for refugees and Maltese units in Ukraine.