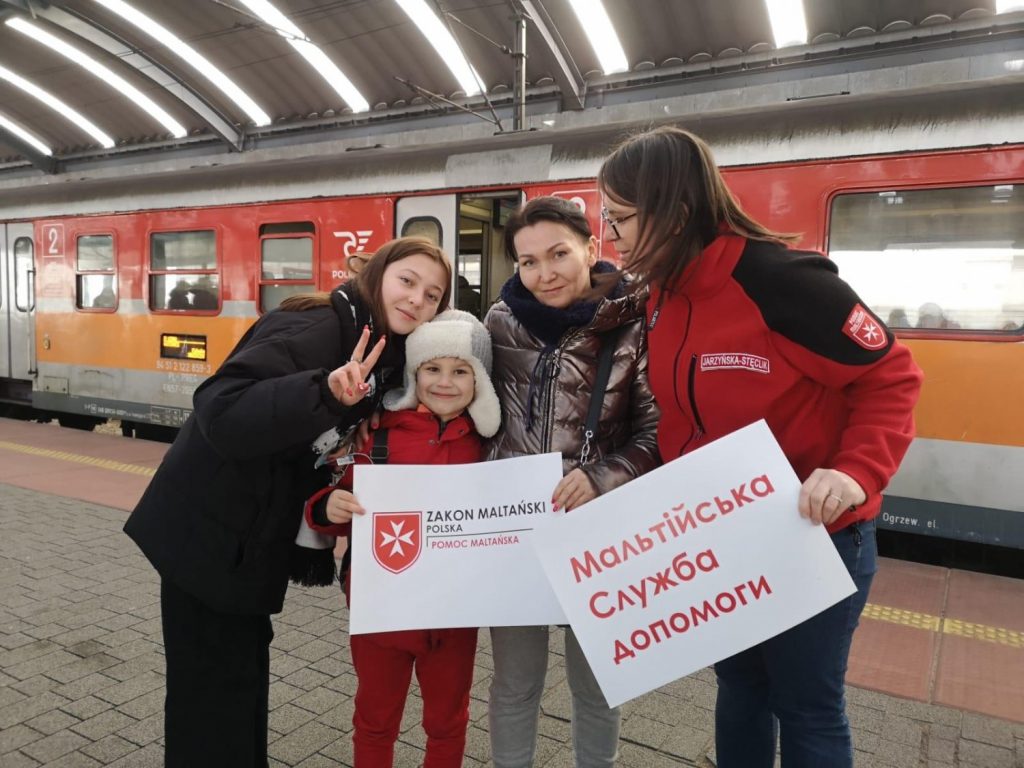 COMMENTARY to an interview with Dominique de la Rochefoucauld-Montbel, Grand Hospitaller of the Order of Malta, which appeared on 29 March 2022 on Aleteia (FR).
https://aleteia.org/2022/04/05/the-order-of-malta-mobilizes-69000-volunteers-to-help-ukrainians/
https://fr.aleteia.org/2022/03/29/lordre-de-malte-mobilise-69-000-volontaires-pour-secourir-les-ukrainiens/
"The Order of Malta mobilizes 69,000 volunteers to help Ukrainians
In Ukraine and throughout Eastern Europe, 69,000 Order of Malta volunteers have been mobilized to go to the aid of both Ukrainian refugees fleeing the war and those who have chosen to remain in the war-torn country. Bringing you closer to the current situation together with Dominique de la Rochefoucauld-Montbel, Grand Hospitaller of the Order of Malta."
The interview with Dominique de la Rochefoucauld-Montbel – Grand Hospitaller of the Order of Malta (corresponds to the Minister of Health and Social Affairs), presents a summary of an individual with 30 years of experience in charity and humanitarian work, very impressed by the activities witnessed in Poland. The Grand Hospitaller describes the situation in Ukraine and shows the commitment of the Order of Malta in figures. Some 275,000 Ukrainians benefited during the first month from the Order's assistance — medical help, free meals, and help with transport. Forty-seven trucks (TIR) with medical equipment and medicines, first aid kits, and other necessary items have already been delivered to Ukraine. This aid is still going on, and the numbers are growing.
The summary of the first month of aid shows the strength and scale in which the Order of Malta can operate. The 69,000 organised volunteers in Europe are, on the one hand, professionally trained in first aid and medical rescue; there are also doctors, but above all, there are committed people who are aware of their mission. The international experience of the Order is transferred across time and between countries. The Order carries out humanitarian and social service operations in more than 100 countries worldwide. It should be recalled that after the events in Ukraine in 2014 (the Euromaidan), the Malta Medical Service (Poland) started, in cooperation with the Polish Ministry of Foreign Affairs, a program to train paramedics and instructors just across Poland's eastern border. As a result, more than 2,500 trained people and provided equipment have been serving since the first days of the war. Thanks to them, we have detailed knowledge of the needs, and in this way, our assistance can be precise.
Tomasz Tarnowski – Polish Order of the Knights of Malta (ZPKM) Communications Department
————————————–
"These are not fake migrants. These are desperate women and children."
The last time I was in Krakow was after Christmas in December 1989, shortly after the Berlin Wall came down. I was an undergraduate, just starting out on my journalistic career, reporting on the end of the Cold War.
My first interview break had been to corner Ronald Reagan's Secretary of State George Shulz in the Cambridge Union bar after an evening debate on the end of the Soviet Union. His line was that with the Russian withdrawal from Afghanistan and Gorbachev signing the Intermediate-Range Nuclear Forces Treaty in 1987 – removing the threat to NATO of mid-range Soviet missiles in Europe – the so-called "Brezhnev Doctrine" was over.
Back in 1989, I was in Poland when the Sejm – the national parliament – changed the country's name from the People's Republic of Poland to the Republic of Poland. Never in my wildest dreams did I imagine that I would return to Krakow over 30 years later after Russian tanks began rolling into Ukraine.
The main difference between 1989 and now, I sense, is that whilst Gorbachev was happy to thaw the great freeze in US-Russian relations, and didn't regard Western democracy as a direct threat, a large part of Putin's motivation is precisely that – the concern of having a western-facing Ukraine right on his doorstep.
On my first day breakfasting at the Hotel Polski, I noticed the hotel was unexpectedly full for a Tuesday in off-season March. The families – comprising women and children only, no men – talked in what sounded like Russian. It was only when I was met by my young Polish translator, Ksawery Danilowicz, that he explained in a whisper: 'The families are all Ukrainian refugees. The hotel owner has taken in around twenty guests and is putting them up for two months until they have somewhere to live. There are no men as they are required back home to fight'.
Such is the warmth and generosity of the Poles in this refugee crisis. In this case, a wonderful architect-hotel entrepreneur called Jerzy Donimirski, who restored the historic property in 2016. It is now the flagship of the Donimirski hotel group that specialises in restoring historic ruins and turning them into boutique hotels. Indeed, sixty-something Jerzy turned out to be a fellow 'restore-a-wreck' addict, having restored an old castle ruin (Zamek Korzkiew, some 8 miles from Krakow) that once belonged to his family. A senior Knight of Malta within the Polish Order, he drove me around Krakow in a black van looking like an unshaven commando from the Polish resistance.
The Polish, I sense, like the English, have a deeply emotional connection with their buildings which tell the story of their country. The urge to rebuild, re-connect and be welcoming hosts is very much present in Poland.
The two days I spent in Poland were to report on the refugee crisis on the border, especially the work of Catholic charities led by Maltese International, the humanitarian arm of the Order of Malta.
This religious, military order dates back over 900 years and is dedicated to helping the sick and the poor, so providing shelter and protection to refugees in Ukraine and those crossing over into Poland remains very much in the tradition of the Order.
Indeed, the large tent that Malteser International has erected close to the border at the refugee station at Hrebenne-Rawa Ruska closely resembles a medieval tent with the distinctive red Jerusalem cross signifying that it is a form of religious sanctuary. It was put up on the first day the Russian tanks invaded on 24th February and was manned for several days by just one volunteer. By the time I got there, several volunteers from Krakow were manning it 24 hours a day. With sub-zero conditions and snow falling, the tent offers a calm and reassuring welcome to thousands of refugees every day.
There is little sense of panic. Ukrainian refugees arriving with their possessions in a carrier bag can help themselves to chocolate Easter bunnies, soup, smoked kielbasa (Polish sausage), dog food and biscuits. Donated second-hand baby strollers are arriving in vans as they could not be taken on the refugee trains out of Ukraine – many arrived at the border with no more luggage than a bin liner.
The Maltese International worker running the Zakon Maltanski relief station said the only men he had seen at the temporary camp had been a 'man without a leg' and a blind man. The rest have remained in Ukraine, where there is conscription. So understandably, emotions are high as tearful women try to contact their husbands and sons across the border. Thankfully mobile phones are being distributed with SIM cards thanks to various Ukrainian appeals.
Other faith-based charities have a strong presence at the border crossings, including volunteers working for Caritas and Knights of Columbus. I even saw three smiling nuns that looked like they had walked out of the nunnery of the Sound of Music. They turned out to be volunteers from the Salesian Sisters of Don Bosco – known as Daughters of Mary Help of Christians. They asked their mother superior if they could abscond from their convent to help and drove to the border from Szczecin. Not so much Von Trapp as Nun Trip.
Accompanied by my brilliant translator and guide, we drove to the Ukrainian border in a tiny red car no larger than a Soviet Lada. As we left the motorway, we slowed to 10 mph to avoid the deep potholes. Every hour we stopped for a cigarette break and a coffee.
Meeting up with officer 'brethren' on the way is also encouraged – in this case, Brooks Newmark – an expert on the Syrian refugee experience, who put aside his Oxford PhD research in Rwanda to help out with the refugee crisis at the Polish border. He teamed up with a friend from Switzerland with experience of running a coach touring business to privately hire local drivers and buy some old coaches to assist with shuttling refugees from Ukraine to the border.
At the unlikely-sounding location of Hotel Restaurant Cafe Punkt by a Shell garage a few miles from the border, we met up with Brooks and his friend. He was angry about the British government dragging their feet over the issuing of visas:
"These are not fake migrants," he said. "These are desperate women and children. To say they must travel to Warsaw or Paris and then wait a week to get a biometric test is unacceptable and borderline inhumane."
As a former minister, he said he was asking the UK Minister for Refugees to intervene and "speed up the process". As of writing, the government appeared to be listening to this wide condemnation and failure to act fast enough.
The Order of Malta, whose humanitarian work in Ukraine started some 30 years ago. In 2014, assisted by Malteser International, volunteers and trained staff helped the evacuation of wounded from the Euromaidan. Order of Malta Ukraine (MRS) has been training volunteers in military medical emergency practice in Ukraine as well as providing humanitarian aid and medical equipment to the 'internally displaced' person centres in both Mariupol and Zaporozhe.
The MRS has so far provided over 3000 people with basic first aid training. Other cities that have benefited from this training programme include Ivano-Frankivsk (headquarters), Lviv, Mariupol, Kamianske, Kyiv, Zaporozhe, Fastiv, Berehove, Yuzhnoukrainsk. They have also worked with Polish firefighters to provide 'specialist training in mass evacuation as well as technical training in structural collapse rescue'.
Despite the Russian tanks getting closer to Kyiv, this critical first aid training continues as Putin's rockets destroy maternity hospitals and shell those desperately trying to flee cities along the so-called 'humanitarian corridor'. A team of 180 people from The MRS are currently in place to provide the 'necessary support' to war refugees from Ukraine in Poland.
Other than the station I visited at Hrebenne, another larger medical facility is in Kombornia. A centre at Glubczyce operates as a halfway home. Further down the supply line, there are refugee points in Katowice (headquarters), Krakow, Warsaw, Poznan, Radom, Krzeszowice, and Nysa. At all these mission stations, the Order coordinates the distribution of aid and money sent from Great Britain, Belgium, Switzerland, and Germany.
One of the most touching scenes I witnessed at the Polish border was a Ukrainian man who looked to be in his thirties, in a tracksuit and hat, clutching a bunch of wilting red roses. He told me that he was 'waiting for his wife' who had been stranded across in Ukraine. He said he would wait, however cold it got at night. Indeed, the sub-zero temperatures were proving the bitterest obstacle to the refugees as the wind whipped up.
A medic with the Knights of Columbus was ripping open the plastic wrapping of a child's defibrillator to try and save the life of one child suffering from hypothermia. I saw mothers battling in the cold to change wet and freezing nappies in the sub-frozen dark. Fortunately, the charities' medical tents are warm well-supplied, and few refugees are arriving on foot now. The new enemy is bureaucracy.
—————————————————-
The President of the Polish Order of the Knights of Malta on assistance for refugees (interview)
March 12, 2022 https://www.ekai.pl/jak-polscy-kawalerowie-maltanscy-pomagaja-uchodzcom/
 "Common rooms for children and their mothers would be an important point of support for Ukrainian women," says Jerzy Baehr, President of the Polish Order of the Knights of Malta, in an interview with KAI – "It is extremely important not to experience this difficult time alone," he adds.
Dorota Giebułtowicz (KAI): Since the first day of the war, Mr. President, the Order of Malta, has been helping the Ukrainian population. Did you expect Russian aggression?
President Jerzy Baehr: "The conflict surprised us, as it did everyone. At the same time, we started to take an active role from the very beginning. So far, we have organized assistance points at the border; we are helping to accept refugees, we are transferring large pallets of gifts directly to Ukraine, financed both by Poland and from abroad. These are short-term things.
At the same time, we will adopt some systemic solutions to support those who take in refugees in their homes, sometimes with an incredible financial and psychological burden. Imagine the situation of people who have taken in, for example, a mother with two or three children. They try to create an everyday life for them, despite the stress and significant trauma of those they are helping. These hosts, often very generous, have their limitations, so we plan to come to their aid by offering something more."
KAI: What are your plans?
"We are thinking about Maltese Help Centres, which we want to establish in the key cities of our presence. We assume that these will be, for example, day centers. Depending on the needs, these centers may also have a different profile. Day centers for children and their mothers would be an essential support point for Ukrainian women. It is crucial not to go through this bad time alone. Even if refugees are cared for by their hosts, it is hard for them. We know that a language problem is also revealed in contacts with refugees. We want the presence of Ukrainian mothers at daycare centers to be a critical human stabilizing element. It is also vital to create an environment for children where they can play and talk with their peers in their native language."
KAI: So far, the Order of Malta has been known for its humanitarian activities, especially medical. This would be your new profile?
"Our activities in Poland are carried out in different regions and depending on local needs the profile of our activities differs. For example, in the past, when mammography in Poland was hardly available, we organized a clinic in Poznań, which received over 80,000 women. We run a care and treatment hospital in Barczewo, mainly for the elderly. We run occupational therapy workshops for the handicapped or a specialist kindergarten in another center. In short, Maltese Aid Centres will have different profiles; sometimes they will focus more on psychological assistance, sometimes on medical assistance, sometimes on some educational needs. We try to act in a complementary way."
KAI: The government passed a law on assistance for Ukrainian citizens. Does the act open new areas of activity for aid organizations?
"The law has just entered into force. We will see on what scale the state will provide for medical and educational needs through local governments and what gap remains to be filled by NGOs aid organizations, including the Order of Malta. If it turns out that the state medical service will be available for free and effective, then the medical profile of our aid will not be the most important. But it may turn out that this service offered for free will not necessarily be effective. We plan then to provide the support for our Maltese Medical Service.
The same applies to psychological care. Yesterday in Poznań, we built a network of contacts with psychologists who could be available here in our center. We will establish the conditions of cooperation with them. On the one hand, there is a lot of enthusiasm, and many people are working for free, but on the other hand, we have to consider the need to provide long-term assistance to refugees. It is challenging to expect psychologists to work voluntarily for the next six months. We will look for flexible solutions to provide permanent help to refugees."
KAI: Do you also use your contacts to send refugees to families in the West?
"Indeed, foreign countries want to accept refugees as well. We know that the Benelux countries, Italy and Germany, are very open to receiving Ukrainian citizens. However, the vast majority of Ukrainians want to stay in Poland because they ho pe to return home soon; they want to be close. We must remember that these people have specific experiences and visions for the future. Each of them needs to be approached individually.
Yesterday in Poznań, we were transporting a group of about 50 refugees; among them were deaf and hard of hearing people. Regardless of the preparation of a specific place, some of this group wanted to go further, so we bought them tickets for a further journey. You cannot impose your own vision on them."
KAI: The work of the Order of Malta is inspired by the Christian faith, according to the motto: Tuitio Fidei et Obsequium Pauperum (Defending the Faith and Serving the Poor and Suffering). What does this mean in the present situation?
"Yes, we are inspired by our faith and the fact that we are Catholic and part of the Order of Malta. As an Order, we support those in need regardless of their convictions, skin color or religious belief. We support everyone. This is the case, for example, in our Maltese maternity hospital in Bethlehem, in a very difficult land, a land of many wars and many sufferings. It is the same now in Poland. We help people. After all, they are human beings because they suffer."
——————————————————————-
"The Order of the Knights of Malta: Real Knights now go to Ukraine"
Article from https://www.ekai.pl/zakon-maltanski-prawdziwi-rycerze-jezdza-teraz-na-ukraine/ 
March 10, 2022
"Today, the real knights are those who travel with transports to Ukraine," says Marcin Świerad, MD, President of the Malta Aid and Medical Service Foundation. In this interview for KAI, he talks about the assistance given by the Malta volunteers from Poland and the whole world. "The response is enormous. Even doctors from the USA are now applying,"  says the President."
Dorota Giebułtowicz (KAI): The Order of Malta is famous for providing humanitarian aid, especially medical assistance. How did you react to the outbreak of war?
Dr. Marcin Świerad: "At first, it was spontaneous help, 'from the heart' so to speak. It started with phone calls to friends, to their families in Ukraine. We became aware of their needs and suggested that they bring their children and mothers to a safe place, to Poland. This psychological support was of great importance for them during the first shocking hours caused by the outbreak of war. Then a mass mobilization took place, volunteers on both sides of the border started to work immediately by identifying needs, collecting gifts, and organizing aid transports."
KAI: Does the Order of Malta have its structures in Ukraine?
"Yes. In Ukraine, there is the Maltese Aid Service, which was established 25 years ago. But we found closer contacts during the Euromaidan in 2014. Our ambulance with the sign of the Maltese cross was one of the first to cross the border to help those injured in the fighting. We provided on-the-spot assistance and transported injured civilians to Polish hospitals. Then we saw that it was necessary to train volunteers in first aid and medical first aid rescue. We started training courses with financial assistance from Poland's Ministry of Foreign Affairs and EU funds. Within eight years, we created 12 volunteer centers of the Maltese Aid Service. We have centers in Lviv, Ivano-Frankivsk, Kharkiv, Mariupol, and Kyiv. Today, the knowledge they gained turns out to be indispensable".
KAI: How are the Maltese volunteers currently working in Ukraine?
"One of the most important initiatives was creating a medical and social assistance point right at the border in Korczowa – literally 200 meters from the border crossing. You can get a warm meal there and get professional medical assistance. We bring humanitarian aid, medicines, food, necessary things to this point, distributed to specific places in Ukraine. Today the real knights are those who travel in transports to Ukraine. We all know how dangerous this is. At any moment, bombs can fall on the supply routes. Today, anyone who risks his own life to help others is a true knight."
KAI: What is the response among the Maltese in the West to the tragedy of war?
"The response from the Maltese volunteers is incredible, especially from Germany. The Ukrainian diaspora, the economic emigrants, have actively participated in the work of our volunteers. Englishmen, Frenchmen, Italians, Belgians also come with gifts. Estonians and Czechs brought humanitarian aid to Krościenko; some doctors and nurses decided to stay on the spot here and help. However, we act professionally, so first, we must register everyone and verify their qualifications with the Chambers of Physicians or Nurses. We are currently building a database of doctors, nurses, and members of other professions who will be invited to provide focused assistance later. We have to reckon with the fact that there may come wounded people who will require hospital care or immediate surgery. I have even received e-mails from doctors in the USA."
KAI: How is the help of the Order of Malta organized in Poland?
"In the first days of the war, the key was the cooperation with the Maltese Aid from Ukraine organization. In Poland, we work in two structures: the first one is Maltese Aid, which is the humanitarian department, and the second one is the Maltese Medical Service, which is the medical department. I am responsible for the whole operation. We coordinate all our relief activities with the government, local authorities, and health centers. This ensures that the activities of the Maltese are practical. The Order of Malta also cooperates with the WHO and the UN."
KAI: Where are the main points of assistance of the Order of Malta?
"There are aid stations on the Polish side of the border in Hrebenne, Korczowa, and Krościenko. There you can get humanitarian and medical help and obtain information. Refugees' medical aid points operate 24/7 at the railway stations in Cracow and Katowice. We use large warehouses in Chorzów, where we sort and repack the incoming gifts. From there, buses set off to Ukraine. The logistic center of our medical and aid activities is located in Katowice, Wita Stwosza St. no. 41. We rent more and more rooms there.
Another place is Kombornia Manor, 70 km from the border, near Krościenko, which serves as a redistribution center. Thanks to the owner's kindness and generosity, we can provide accommodation for the refugees in the hotel buildings. Some of them are sent to Głubczyce in the Opole region, where we cooperate with Top Farms, a friendly company that has made its facilities available to us for seasonal workers. In addition to lodging and food, refugees can also use the Health Center, kindergarten, and school, thanks to the help of local authorities. A lot of work is being done by the Maltese volunteers from Warsaw and Radom. They are operating the Maltese assistance point near Lviv, from where about 600 people were evacuated to Poland in just four days, including children under respirators. Our unit in Poznań operates on a systematic basis."
KAI: What challenges do the Maltese volunteers face in the nearest future?
"I fear that we will face a wave of refugees who will need specific medical assistance, even hospital care. We know that there are already many civilian casualties and injuries. For now, we are getting tired refugees, who are hungry, who are cold. However, we have to prepare ourselves because we will be bringing in wounded people who will be transported to hospitals in Poland and other parts of Europe. As the Maltese Medical Service, we also have significant experience in building field hospitals, where operations can even be performed. We are preparing for this together with Malteser International. It brings together people who have a lot of experience in relief work. They have previously worked in war conditions in Lebanon, Syria, or Iraq or organized aid in Asia after the tsunami. These professionals know how to build a whole town for refugees with hospital containers. For the time being, in agreement with the local authorities and the Polish government, we are looking for such a place so that we could quickly organize help in case of need."
KAI: The Order of the Knights of Malta is famous for its good organization and great experience.
"Yes – for several hundred years, because the Order of Malta has provided 900 years of uninterrupted activity and it is a hospice order, focused on addressing the needs of suffering people. Our founder, Blessed Gerard, taught that we must be able to see the crucified Christ in every poor, sick, and needy person, regardless of their religion or social status."
KAI: Can anyone join your organization as a volunteer?
"Everyone who wants to serve Christ in other people will find a place with us, but at the same time, it must be remembered that we help regardless of faith, skin color, or beliefs. Many people come because they trust our organization and procedures. Everyone can find his or her calling within the structures of the Order of Malta and can be satisfied with being part of a powerful, well-organized machine that is centuries old. Look for the flag with the white sign of the Maltese cross on a red background!"
KAI: Thank you for the interview.
***
The Order of the Knights of Malta – full name: the Sovereign Military Hospitaller Order of St. John of Jerusalem, of Rhodes and of Malta. The roots of the Order derive from the hospital brotherhood of knights founded in Jerusalem in the first half of the 11th century. The beginnings of the Order of St. John in Poland (here called Joannites) date back to the 12th century when prince Henryk of Sandomierz, who took part in the Crusades, founded a commandery in Zagość in the Sandomierz district. The Polish Order of the Knights of Malta resumed its activities in 1992, after Poland regained its independence
The Order is active in charity and hospital work in over 120 countries. The Knights of Malta help victims of natural and military disasters. Their devotion was evident during both World Wars and other armed conflicts around the world. The 20th century saw the Order's hospitality and charitable, religious and diplomatic activities dynamic development.
You can support the Polish Malta Organization by donating to account no.: Malta Aid Foundation – Malta Medical Service: acc. no. 66 1140 2017 0000 4402 1300 0856, with the note: donation for statutory purposes – helping refugees from Ukraine. Or through the www.zrzutka.pl platform.