Zaproszenie na koncert maltański w Nowym Jorku
20/05/2018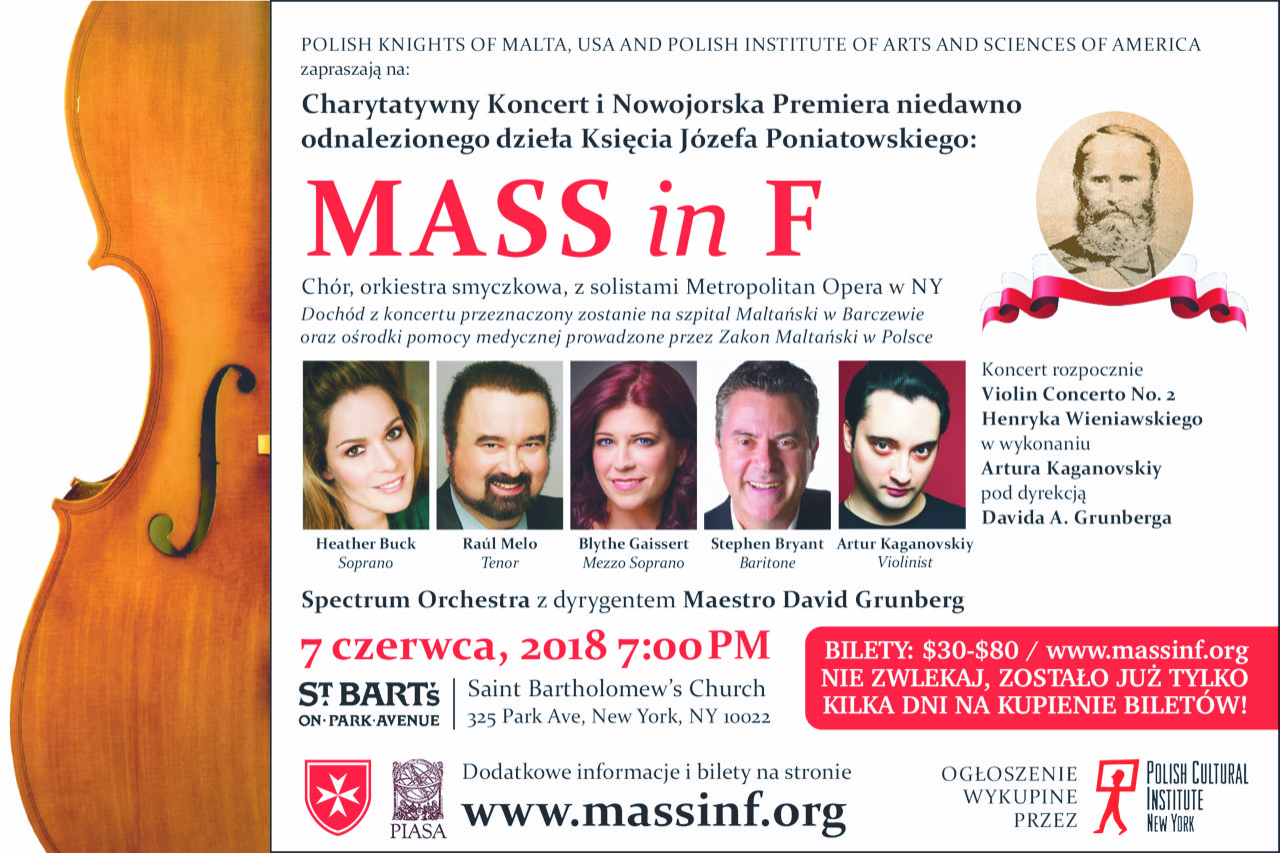 "We make a living by what we get; we make a life by what we give"Winston Churchill
Dear friends and colleagues:
These past several months, Alicia Brzyska and I have been organizing what is going to be an amazing musical event and a charity gala in the center of Manhattan.
The event will serve as a platform to introduce an international audience to a beautiful piece of music, composed by Prince Joseph Poniatowski, a relative to the last King of Poland, Stanislaw August Poniatowski — and more importantly to raise funds for those who need it the most.
The main beneficiary of our efforts will be the Hospital in Barczewo, Poland, which is run by the Polish Association of the Order of Malta. The hospital is dedicated to the long-term treatment of patients requiring constant and specialized care. Various types of equipment need to be upgraded, and new ones need to be purchased, to provide quality service for their patients. For more information see: https://massinf.org/beneficiaries/
Just a few words about the "Mass in F":
A few years ago, truly sensational information started to circulate among the musicians in London about a discovery at the British Museum – a previously unknown score composed by Prince Joseph M. Poniatowski.
Prince Poniatowski was not only a soldier and known politician during the reign of Napoleon III, but also a talented opera singer and composer of Bel Canto operas and a director of Theater Lyrique in Paris. According to experts, the quality of the newly discovered score of the Mass in F was on the level of the most known and loved musical works created by the preeminent Italian composers of the Nineteenth Century.
For the first time we are bringing the Mass in F to New York City.
The New York premiere of the Mass in F, will take place at 7:00 PM  on Thursday, June 7, 2018, at St. Bart's Church, 325 Park Avenue in Manhattan. This venue is well known for its unparalleled acoustics, as well as for presenting classical music concerts that include voices from among others, Metropolitan Opera.
Before the Mass in F, the beautiful "Concerto Number 2" by Henryk Wieniawski will be performed.
We have assembled a top-tier ensemble of musicians for this event:
David Grunberg – Music Director and Conductor.
Heather Buck – Soprano
Raul Melo – Tenor
Blythe Gaissert –Mezzo Soprano
Stephen Bryant – Baritone
Artur Kaganovskiy – Violinist (Performing Henryk Wieniawski's Concerto No.2)
Spectrum Symphony of New York
Choir – assembly of singers of renowned NY area choirs.
We are honored that His Excellency Ambassador of the Republic of Poland, Mr. Piotr Wilczek, and Her Excellency Ambassador of the Republic of Poland to the UN, Joanna Wronecka will be in attendance.
The VIP reception will be attended by members of the diplomatic corps, clergy, and guests from the world of culture and business.
We are grateful that The Most Reverend Bernardito C. Auza, the Apostolic Nuncio and Titular Archbishop of Suacia, Most Reverend Witold Mroziewski, Bishop of Brooklyn and Most Reverend Joseph C. Bambera, Bishop of Scranton will attend the event, among many other VIPs.
The concert is in memory of Witod Sulimirski (1933-2016) – a man of honor, with the highest standards of leadership and integrity. His contribution to Polonia in the United States and Poland will never be forgotten.  https://massinf.org/tribute-to-witold-sulimirski/
In the spirit of giving, helping others, caring for others, I'm doing my part, and I'm asking you to do yours by attending the concert if you can, place an adverting in the concert journal or donate to such a great cause. You can be assured that 100% of your donation will be transferred to the beneficiaries. We all work as volunteers also donating our money and time.
I am counting on your support and generosity!
More info about the concert and how to contribute please visit: www.massinf.org
Truly yours,
Robert Niziol